Our proposal was based on the criterion of "using ecological and/or sustainable materials that can withstand assembly and disassembly multiple times and which are concurrently typical of the Slovenian environment and modern."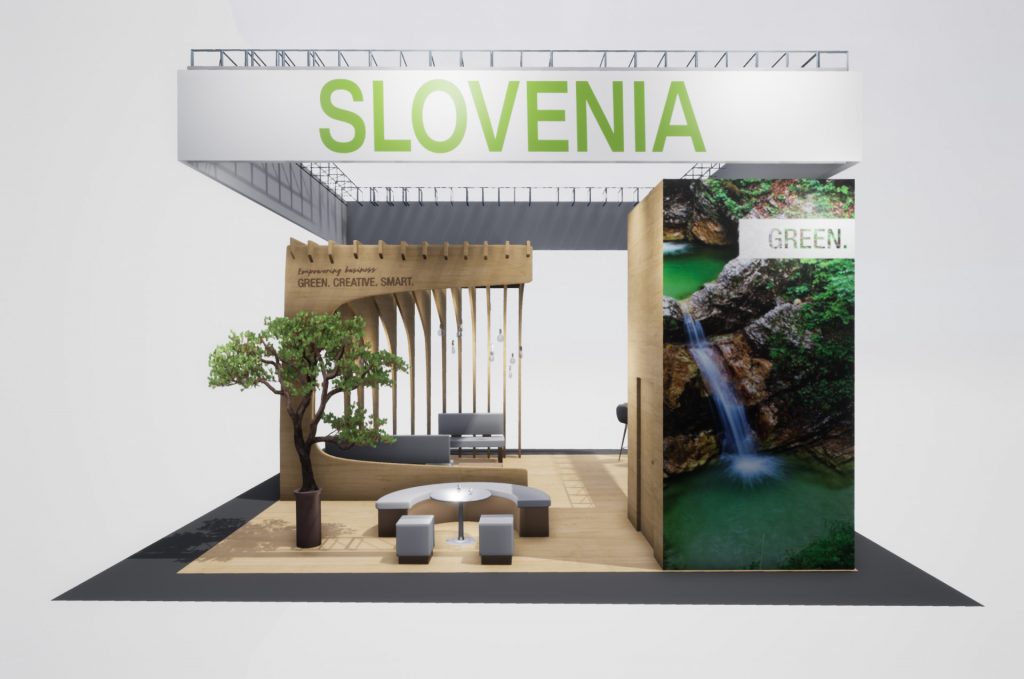 The project implicitly and explicitly expresses its values through all of its elements and the realization of the internal slogan "Green. Creative. Smart.". The choice of materials and approach are green, i.e. ecologically sustainable, creative-appealing-different, and communicative-outstanding-innovative. The equipment and materials are mostly local; modern presentation tools are employed for communication: augmented reality, touch screens, and image animations on LED screens. Visitors and participants are able to enjoy relaxed socializing, which contributes to the success of participation in trade fairs.
The modular wooden pavilions we provide consist of a prefabricated modular wooden structure made of plywood and glued panels. They are reminiscent – and a modern interpretation – of the rich Slovenian tradition in the field of wooden construction. The final product will be adapted to the size of the fair space and the content of the presentation.
The interior of the room functions organically and will be illuminated by hanging LED bulbs or LED strip lights with indirect light.
By means of this modular method of construction, we can make rooms of any length, and with appropriate adaptation we can also make wider rooms or an additional floor, as glued panels and beams can withstand large spans. The built construction is freestanding (with a cross connection on the ribbed side hidden in the floor) so that it can also easily be used for island-shaped layouts.
All original wooden furniture on the stand is made from the remnants of cross-laminated boards and is modular and easy to assemble.